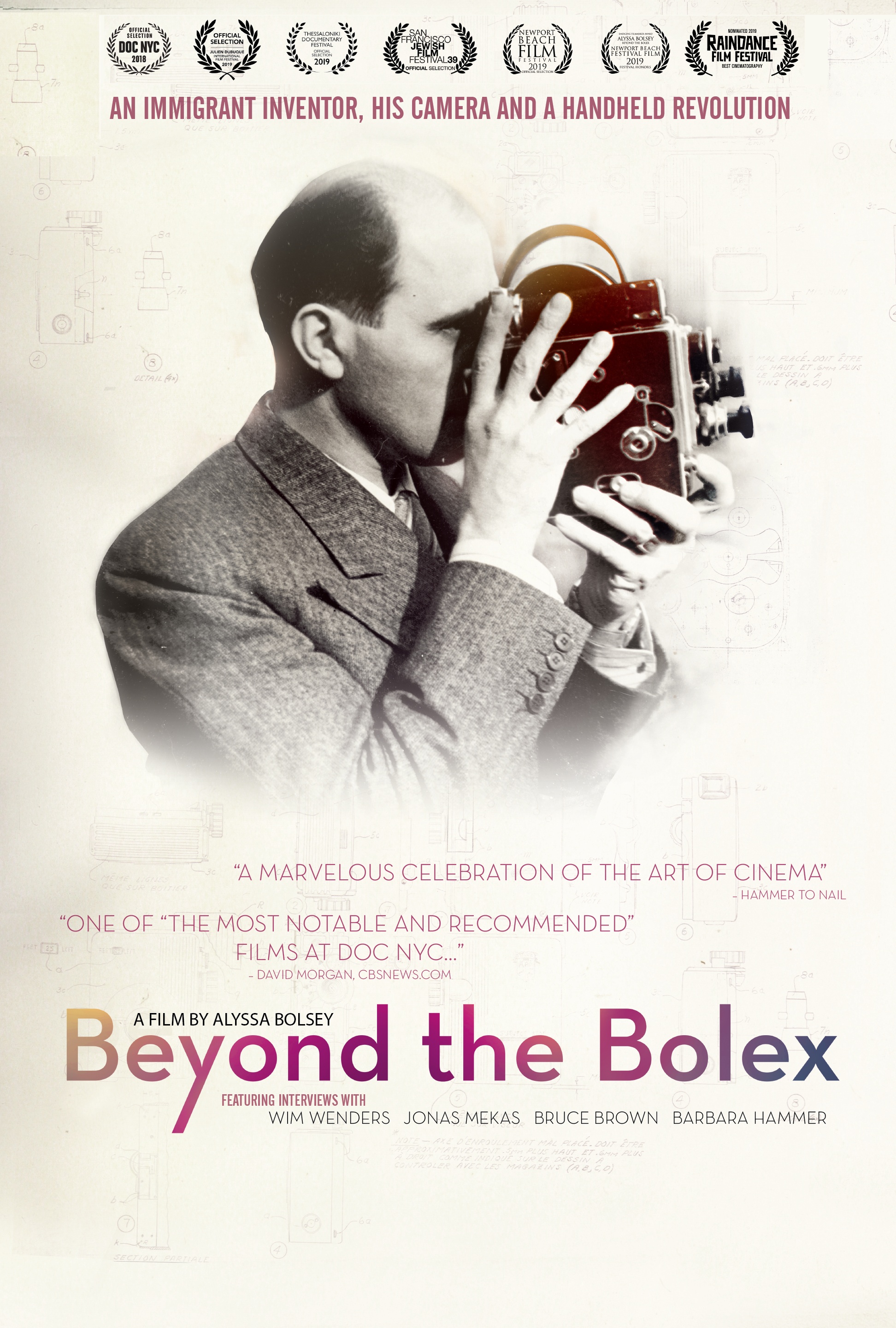 Beyond the Bolex
In the 1920s immigrant inventor Jacques Bolsey aimed to disrupt the early film industry with a motion picture camera for the masses: the iconic Bolex. Over 90 years later, filmmaker Alyssa Bolsey pieces together the fragments of a forgotten family archive to reveal the epic story of her great-grandfather in "Beyond the Bolex." Interviewing family members and renowned filmmakers, Alyssa travels to Switzerland, and delves into Jacques' personal diary, film reels and collected images in order to understand the man and his impact on generations of filmmakers.
Beyond the Bolex nominated for Best Cinematography! Beyond the Bolex screened on September 20, 2019
"San Francisco Jewish Film Festival
Landmark's Albany Twin Theater, Friday, July 26, 1:40 PM
Castro Theater, Saturday, July 27, 12:55 PM
https://jfi.org/sfjff-2019/film-guide/beyond-the-bolex "
Beyond the Bolexscreened at the Thessaloniki Documentary Festival in Thessaloniki, Greece, March 4th and 5th, 2019
Beyond the Bolex screens in Brisbane
NEW FARM CINEMA

Beyond the Bolex
Sunday 10/6 5:30pm
Angelika Dallas Theater 7
Buy Tickets Here
Sydney
*10/27 7pm – Ritz Cinema, Randwick
Melbourne
* 10/28 – 6:40pm Classic Cinemas, Elsternwick
11/7 – 6:30pm Lido Cinemas, Hawthorn
11/14 – 8:40pm Classic Cinemas, Elsternwick
Buy Tickets Here
with q & a with director Alyssa Bolsey and cinematographer/producer, Camilo Lara Jr.
To see what the critics are saying about BTB, check our Press clippings, here.
To be informed about upcoming screenings, join our Mailing List below.
If you want to contact us by email, you can send us a message on our contact page.